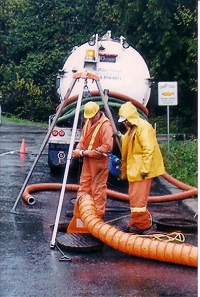 Sewer lines are the biggest drains with all other drainage in the home or business property prompting them. A primary sewer line runs underground from the house or building to the city sewer line or septic tank. Sewer lines can get stopped up with flotsam and jetsam amassing from other family drains and even by tree roots that infiltrate the channel joints from encompassing soil. In the event that the fundamental sewer line clogs all other drainage in the home or building will back-up creating an extremely distressing circumstance.
McRae's Septic Tank employs our vast selection of drain cleaning equipment to slice through clogs and clear sewer lines. Assuming that there is any implication of an issue with the sewer line we may even perform a video review to determine if the line is broken and a replacement is required.
Dealing with a clogged sewer line can be a very stressful situation – let us take care of it with our 24 hour emergency service. McRae's Septic serves the entire Fraser Valley including Delta, Surrey, Langley, Port Coquitlam, Aldergrove, Abbotsford, Chilliwack, and Mission!
Just call 604-856-8344 for a free estimate.
Social Share