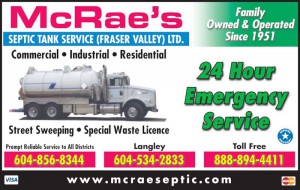 When an emergency strikes with your septic tank or sewer and you are desperately seeking someone to come out to your home or your business, look no further than McRae's Septic Tank. Our company has been providing customers in British Columbia full emergency septic services, 24 hours a day, seven days a week. We service both commercial and residential customers and no job is too big or too small. We will send qualified, knowledgeable workers out to your problem area as soon as possible after your call.
Our prices are highly competitive when compared to other companies in British Columbia. Our high-quality septic services include the following:
Inspections
Cleaning
Sludge build-up
Broken drain lines
Septic filler unclogging
Tree root removal
And more
McRae's Septic is licensed and bonded and is ready for you whenever you call us. We can repair septic tanks, sewer drains, grease traps and more. Our company prides itself on being available to our customers every moment of the day. Problems and breaks don't take a day off, so why should we? We work nights, weekends and holidays so you don't have to worry about your septic or sewer problem any longer than you have to. We will come out to you as soon as you give us a call, for any septic emergency situation you are dealing with.
Our 24/7 services are authorized to transport Hazardous Waste and Materials within the Province of British Columbia. We are licensed and able to transport the following types of Hazardous Waste:
Antifreeze
Asbestos
Contaminated Soil
Corrosive
Dry Cleaning
Environmentally,
Hazardous (class 9)
Flammable Liquids
Flammable Solids
Leachable toxic
Oil
Oxidizing Substances
Paint
PCBs
Pesticides
Petroleum Products
Photo Imaging
Poisons
Solvents
Waste Containing Dioxins and Waste Containing PAHs.
Our emergency septic and sewer services are well-known in the Metro Vancouver and Fraser Valley area. We get the job done fast and right the first time. When you need help, call us today and speak with a member of our team. We can help you take care of any septic or sewer problem that you are dealing with, as quickly and pain-free as possible!
All Areas – 604-856-8344 . Toll Free – 1-888-894-4411
Social Share