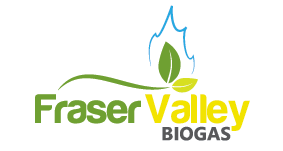 At McRae's we are committed to the future of our community. By choosing the best business practices for preventing climate change and environmental protection we ensure we do our part in sustaining the quality of life for all us here in the Fraser Valley and Pacific Northwest.
One of the ways we make a difference is in choosing environmentally sustainable disposal for the organic matter we collect. This may be waste from grease trap cleaning, on-farm manure or off-farm food waste disposal. Rather than conventional disposal we contract to Fraser Valley Biogas to use the matter to produce methane and high quality fertilizer through a process of anaerobic digestion. The methane is scrubbed and transported to thousands of homes throughout British Columbia by Fortis BC. The fertilizer is used by farmers to grow local crops.
But we don't stop there. Surplus waste that Fraser Valley Biogas cannot utilize is transported to be used in Washington state in biogas and green power initiatives for the Puget Sound.
We are proud to be members of our community and protect it for our future generations. If you are interested in more information about environmentally friendly organic matter disposal check out fraservalleybiogas.com or give us a call.
Social Share