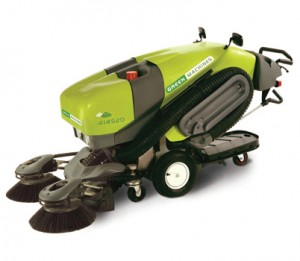 The image of your business is not just about the services you provide; its appearance counts for a huge percentage as well. When you hear image is everything, it truly is. The first impression that people get when they arrive to your doors gives them an idea of what kind of company they are dealing with, which is why power sweeping is such an essential service.
Look Your Best
Timely scheduling of power sweeping services is critical if you are to get the most out of it. When the parking striping or pavement around your company building is obscured, that is the right time to hire power sweeping professionals. A business located in a heavily treed area will always have a problem of debris such as leaves, twigs, and branches getting stuck in gutters and building corners and that can be very unattractive. The same problem is common during the Fall season, making it an ideal time to get proper cleaning to rid pavements of debris. Leaving debris to accumulate will cause problems such as gutters blocking, leading to water overflow and the blockage of storm drains. We can plan power sweeping services for you to meet your company needs and budgets.
Avoid Costly Charges
Besides an air of professionalism, power sweeping is one of the ways that you can keep grounds safe for everyone who uses them. Standing water on pavements and debris that get stuck to corners can pose some risks, for example, slip and fall accidents. By ensuring proper cleaning of pavements and sidewalks, you improve safety, subsequently reducing the liability held by your company.
Another motivation for hiring a power sweeping crew is to provide due maintenance for different areas around your business. Pavements, driveways and sidewalks are built to last but only if they get proper care during their lifetime. Sections that receive high traffic tend to deteriorate fast, but regular and thorough cleaning stretches the longevity. You get to save money when you don't have to budget for repairs or re-sealing of pavements every few years.
Scheduling A Cleaning
We understand all these needs, and that is why we have put together a highly efficient team that provides power sweeping for different company needs. Power sweeping is a service that we offer at McRae's, and we use industrial-grade equipment for the best job possible. If you are looking for parking garage or parkade maintenance, we cater to those needs as well. You can also hire us when you have completed a construction project and need a crew to clean up the site. Request a quote today for service along the Sea-to-Sky, Metro Vancouver, Delta, Surrey, Langley, Abbotsford and the Fraser Valley in British Columbia.
Social Share