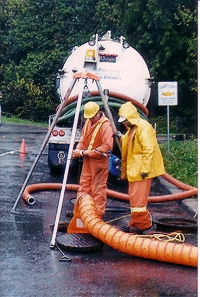 Knowing the location of your commercial property or home water or sewer connection is an important step before digging on your property to repair drain pipes or service lines. It will also help you to avoid damage to your sewer and water lines when you need to dig holes to plant a tree or build a fence. In the city of Vancouver, dialing 311 will allow you to learn about the water and sewer measurements for your property based on city construction records.
Locating Your Water Shut-Off Valve
The circular iron lid to your water shut-off valve is 10 centimeters in diameter, and it displays the letters VWW. The lid should be located near the sidewalk, and it may be covered by grass, dirt or plants, so poking the ground with a metal tool will help you locate the solid metal cover.
Professional Location Services
If you fail to locate your water shut-off valve, you can pay to have a city crew locate it for you along with your clean-out access and sump. The clean-out access is a pipe with a steel or plastic cap that is located near the base of the plumbing stack or at the edge of your property line. The sump collects and controls pooled rainwater levels, and it is a concrete receptacle that is located in the basement, crawl space or yard.
Other Types of Underground Utilities
If you plan to dig in on your property, it is also important to locate your underground gas lines. Contact BC One Call at (800) 474-6886 for information about where your underground utilities are located, so you can dig safely and avoid these potentially dangerous underground lines.
Locate Your Property Lines
Identifying your front property line can be helpful in determining where your underground utilities are located. VanMap allows you to view an aerial image of your property boundaries that can help you determine where your plumbing lines might be located.
Contact Us
If you've recently purchased a new business or home, and you don't know where your tank or septic field is, we can be of assistance with our electronic location equipment. Please give us a call today for an appointment with a member of our professional team. We service the entire Lower Mainland including Vancouver, North Shore, Surrey, Delta, Langley, Abbotsford, Chilliwack, Hope and Beyond!
Social Share