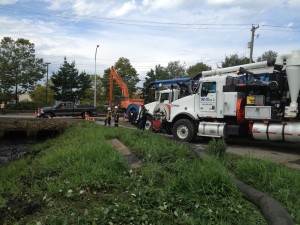 What Are Catch Basins?
Catch basins, also referred to as storm drains form the main component in any landscape draining system. These boxes play a critical role in ensuring that the safety and health of a community or facility is maintained at high standards. Catch basins take in storm water, filter it then release the trapped affluent into a sewer system or a watershed. Catch basins are normally installed in the ground close to areas with standing water to facilitate un interrupted water drainage. These filters help in preventing property damage.
How do they work?
Catch basins are designed in such a way that they can retain sediments from flowing water passing through them. The sediments are trapped and released through an outlet pipe connected to a sewer system or a watershed.
Why You Should Keep the Catch Basins Clean
You need to ensure that your catch basins are regularly cleaned. Regular cleaning will ensure that the catch basins retain their ability retain sediments and prevent flooding. Moreover, cleaning your catch basins is also beneficial because it removes the pollutants load found in the storm sewer system which might have accumulated following a storm event.
Catch basins are not only meant to facilitate proper water drainage from your property to an outlet but also helps in ensuring that your plumbing system is clean and free from any materials that might clog it. You should ensure that all excess water drains into a watershed or sewer system to prevent flooding.
When Should Your Catch Basins Be Inspected?
We recommend that you perform visual inspection of your catch basins twice a year. The specific timing for the inspections will depend on where you are located and the current weather at your location. For example, in autumn, you need to have your catch basins inspected after the leaves have fallen; in spring, you might have to wait until the snow from the roads and your lawn melt. If your area contributes the highest pollutant loadings or it has the highest discharge to surface waters, you should consider having it cleaned more regularly.
Why Hire Us?
McRae's Septic offers professional catch basin cleaning and removal services aimed at removing over 80% of accumulated sediments from catch basins. By performing preventive maintenance on catch basins, we help in safeguarding the integrity of the catch basin and help in preventing costly flooding that results from clogged catch basins. Call Toll-Free 1-888-894-4411, Local 604-856-8344  including 24 Hour Emergency Service.
Social Share