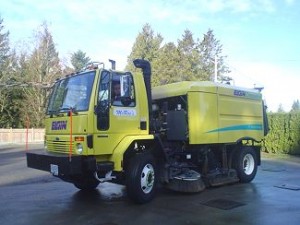 Parking lots routinely collect an abundance of litter, fallen foliage, and other undesirable elements that can make the business or company located at the lot come across as untidy. If a company's guests and clients have to park in a lot that is filled with detritus that is hard to avoid driving over or stepping on, that company's professionalism will be called into question. Companies therefore pay for power sweeping services to clean out their lots on a regular schedule in order to avoid building a negative image of themselves as businesses that either lack the financial success necessary to fund basic cleaning efforts or are unwilling to spend money at all.
Different locations and companies institute their own standards for how often power sweepers should be run through their accompanying lots or parkades. It is most common for an office building's parking space to be swept two times per week, but if the location in question is a store where customers arrive in droves every day, the lot should at least be swept every other day. Fast food joints need to be swept all the more often because customers would otherwise associate unclean parking lots with unsanitary food outlets, and customers often drop food wrappings onto the ground as they leave. Only locations that are occasionally visited by employees, such as storage warehouses, can afford to have power sweepers carry out their work there every other week.
The location's immediate surroundings can also contribute factors that necessitate more frequent sweeping jobs. Areas situated near trees will need to have dead leaves cleaned out constantly, and if the asphalt covering the ground is cracking and forming holes, waste will likely gather around those points a lot more visibly. In general, a property's owner should strongly consider paying a power sweeping service's provider for more sweeps in a given week if that property's lot looks particularly cluttered by the time the next sweep in the current schedule takes place. A daily sweeping schedule is sure to keep a company's public image from being compromised by the state of its own parking space.
A well-maintained property, clean parking lot or parkade is a reflection of a well-managed operation. In order not to disrupt the daily function of your business whether it's streets or parking lots our service is available 24/7! Contact McRae's Power Sweeping Services for a free quote today.
Social Share