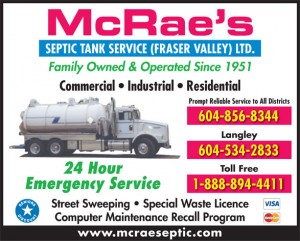 Clogged drains and sewers are not just an inconvenience, they can also become a costly and hazardous problem if not treated and maintained properly. Some people prefer to attempt to clean their own clogs, but it often ends up causing a bigger problem such as pipe damage or backups. When it comes to sewer cleaning, it is best to leave it to trained and insured professionals such as McRae's Septic service. Such professionals have the right equipment for the right job whether it is pressure cleaning or vacuum clog removal. McRae's, is also authorized to transport hazardous waste in the province of British Columbia.
This, of course, does not mean that homeowners can do nothing to keep their pipes clean and their sewers in a good working order. The most important part of maintaining your sewer and water systems is to know where the clean-out and shut-off valves are located. This is something each homeowner should find out well before an emergency presents itself. In Vancouver, homeowners can call 3-1-1 to get an approximate location for their pipes and lines. The sewer cleanouts can be located either in the yard or in the building's basement. Look for a threaded steel pipe covered with a green, black, or white plastic cap. When placed in the yard, cleanouts are usually close to the property line and with help from 3-1-1, they can be easily located. If your home has a sump, it helps channeling rainwater and moisture away from your home. Like cleanouts, these can also be either in the home or the yard.
Proper use and protecting the drains from harmful materials can go a long way in fending off clogs. The number one culprit of clogged drains is grease built-up in the line. Whether doing dishes by hand or a dishwasher, all food and grease must be completely scraped into the trash before rinsing down in the sink. Homeowners often avoid installing garbage disposal as they can amplify drainage problems with food built-up. Collecting grease in an empty milk carton or coffee can before throwing it away as well as wiping down as much grease as possible before washing dishes are a key to keeping the sewer lines flowing.
Learning preventative measures and implementing a periodic inspection regiment keep the costs of plumbing service down while also adding to the value of the home.
Need emergency service? McRae's is here 7 days a week, 24 hours a day. Just call: 604-856-8344 
Social Share