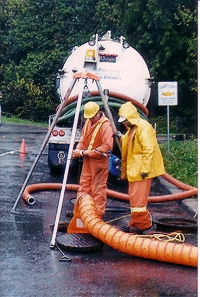 Their stench is notoriously odious, and their size can grow to truly epic proportions. The subject at hand is that of "fatbergs," or solidified masses of cooking grease mixed with solid, non-biodegradable items such as baby wipes that find their way into sewers everywhere.
These so-called fatbergs take shape in city sewers whenever grease begins to solidify and stick to the inside walls of the underground passageways. As things like diapers, wet wipes, sanitary napkins, tampons and condoms also enter the system, they adhere to the giant accumulation of fat. The entire mess continues to expand in size until a real problem emerges.
Preventing Fatbergs
One of the best ways for fatbergs to be kept at bay is to encourage home cooks, restaurants and other enterprises to take diligent steps to collect the grease they use instead of dumping it into sewage systems. It really is relatively easy to just place discarded fats into a designated container which can go directly to the garbage can when filled. Doing so will keep dangerous grease accumulations away from sewer pipes where they are certain to tangle with other items to produce expensive and inconvenient clogs.
Another crucial step that everyone can take is to make certain that wipes are stopped from entering the sewer system in the first place. Toilet paper and bodily waste products really are the only substances that ought to be traveling through the sewers. There are numerous products advertised as being fully flushable such as wet wipes and tampons, but caution should be exercised. While these items may disappear from sight when flushed, they have the ability to clog sewer pipes when present in large quantities. These types of goods belong in the trash can once used, not the sewers.
The Fatberg Busters of McRae's Septic
When troublesome sewer blockages take shape, McRae's Septic is ready to enter the fray. Our team will work diligently to resolve blocked sewers and perform storm drain and grease trap clean-out services for commercial, industrial and municipal entities throughout the region. Anyone who has traveled in and around the Lower Mainland and Fraser Valley has undoubtedly spotted one of our crews in action!
Social Share