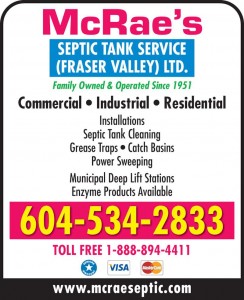 Spring has sprung in the Fraser Valley! The best time of year for pumping the septic tank is the spring. Spring rains and snow melt cause the underground water table to be at its highest level. The drain field can easily become saturated affecting wastewater flow and treatment. A saturated ground hinders the absorption and evaporation needed for proper function of the septic system. When a tank is pumped in spring it will take about a week to refill allowing the drain field to dry.
Septic systems, consisting of sewer drain pipes, septic tank, distribution box, and leach field, are predominantly in rural areas. Wastewater and solid matter flow through drain pipes to the septic tank, constructed of polyethylene resins (plastic), concrete, steel, or fiberglass. Solid matters sink to the bottom of the tank, forming sludge. Fats and grease float forming scum. The middle layer is the wastewater (gray water) that flows into the leach field if a septic system is working properly. When the sludge accumulates high enough it can start to flow into the leach field. At this point, clogs can occur possibly causing a total failure of your septic system. You will want to avoid having to build a new system that could be costly.
Preventing the building of a new septic system can be as simple as pumping sludge out of the tank on a regular basis. Some experts say pump every 3-5 years; others say every 1-3 years. The size of family and how much water going into the tank will be the determining factor of how often you pump. Who can bear to walk over a saturated leach (drain) field or smell the stench of sewage in their backyard? You are overdue a septic tank pumping if this is occurring in your backyard.
When you determine you need septic tank pumping, call McRae's Septic for a free estimate. First, know the approximate distance from your driveway to the septic tank so we can determine the correct hoses required to reach your tank. We serve all Metro Vancouver and the Fraser Valley of BC including Delta, Surrey, Langley, Abbotsford, Mission, Chilliwack and beyond.
Before your yard becomes a potential hazard from bacteria and viruses, take experts' advice of regularly pumping your septic tank. You will have peace of mind and may also save the expense of major home cleanup from backups.
Just call 604-856-8344 or Toll Free – 1-888-894-4411. 
Social Share