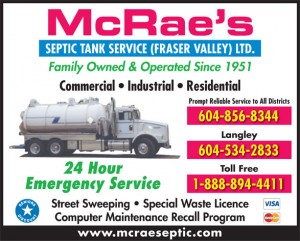 Do you have a drain or septic emergency? Contacting us is easy at McRae's, you can simply call us toll free @ 1-888-894-4411 for 24 hour emergency service. Our service area includes Greater Vancouver and the entire Fraser Valley region of BC.
One simple emergency call and we can give you advice over the phone or if need be, we can come by your business or residence to explain how we can solve your problem. Serving all Metro Vancouver, Burnaby, Richmond, Delta, Surrey, all the Fraser Valley, Langley, Coquitlam, Aldergrove, Abbotsford, Chilliwack, and Mission in British Columbia!
TOLL FREE: 1-888-894-4411
All districts: 604-856-8344
If you end up needing a regular service such as septic tank pumping or grease trap service, we can set that up for you so you will never have to remember it yourself, we will call to remind you of the upcoming event.
Social Share